Would You Need Help from Our Residency Personal Statement Writing Services?
A medical residency will last from 3 to 5 years depending on your area of specialty. It is required after you have graduated with your degree to gain all of the training that you need under the supervision of an attending physician. You will need to have completed a residency within your specialty before you can practice on your own as a fully licensed physician.
Getting to the right residency, however, is not as simple as many would hope and residency personal statements of the candidates will play a very important role. Applications are made through ERAS (Electronic Residency Application Service) which is run by the American Association of Medical Colleges (AAMC). All of your application documents are uploaded into the ERAS system and you are then able to select the specific programs that you will apply to.
Many of your competitors are going to have very similar grades and qualifications to you so your only way to truly stand out from them is through writing an outstanding residency personal statement. Our residency personal statement help has been providing help to applicants for several years online. Through us you will be able to access the support of a true expert in your field of application.

Medical Residency Personal Statement Writing Service Can Help You Apply to a Full Range of Residencies
Because we have so many different specialists we are able to provide you with expert residency application help across a full range of different areas for your residency application. We always ensure that you will work with an expert that has qualifications and experience in the area of your application to ensure that you will get the best written personal statement at all times.
Our services for writing a personal statement medical residency are able to support you with applications in all of the following areas and more:
Internal Medicine
Neurology
Family Medicine
Psychiatry
Vascular Surgery
Radiology
Podiatry
Ophthalmology

General Surgery
Anesthesiology
Dermatology
Urology
Orthodontics
Emergency Medicine
Pathology
Otolaryngology
How Do You Make Your Medical Residency Application?
Almost all applications are going to be made through ERAS and then will be matched through the NRMP residency matching program. The documents that are required for your applications are all uploaded through your MyERAS login and become available to the specific programs that you apply to.
The following are the specific documents that you are required to provide:
Electronic application form
Residency personal statement
MSPE Medical Student Performance Evaluation report
Transcripts
Select authors for your Letters of Recommendation
United States Medical Licensing Examination results (USMLE)
ECFMG status report for overseas applicants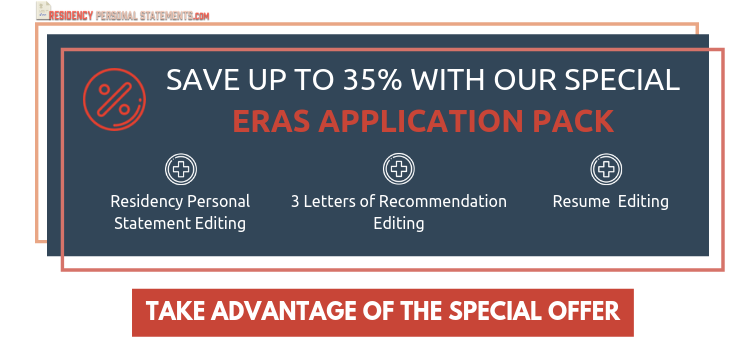 Get Immediate Residency Application Help
Our medical fellowship personal statement service is able to provide you with a full range of support with your application. Everything that we provide is done with direct communication with your expert and is always done from scratch. After all your personal statement must be totally unique to you and written in a way that shows off your skills and ambitions in a way that will clearly show what a great match you are to the residency you are applying to.
Our services are totally flexible and adapted to your specific needs so that you will always get the best possible results. Through us you can get support with:
Residency Personal Statement Writing
Our experts can work directly with you to gather all of the information that will be required to craft an engaging and effective statement. They know what the committee expects to see and can draw out this information and weave it into a highly attention grabbing piece of writing that will boost your chances of selection. All writing is done to your requirements and can be downloaded for review as soon as the initial draft is completed. We provide for an unlimited number of changes and our experts will continue providing support until you are fully satisfied with how your personal statement is written.
Personal Statement Revision and Rewriting

Many applicants will write something, and simply not be totally happy with the results. Our experts can work with you to review and update your personal statement to ensure that everything that the committee is looking for is covered. Our experts will help you with choosing the right wording and organizing your statement in a way that is going to provide a clear storyline to keep the reader engaged with what you have to say.
Editing Your Medical Residency Application Personal Statement

Even if you have everything that the committee is looking for, if it is not written well, you can still be let down through your personal statement. Our editing service can help you to be sure that your personal statement is worded correctly and that it flows well to maintain the attention of the reader. We enhance its readability while removing issues such as clichés and wordiness to improve your chances of getting the result that you want.
Personal Statement Proofreading

Then it comes to your personal statement first impressions are really going to count. If the reader sees spelling or grammatical errors that first impression could easily be that you are a sloppy worker that does not attend to details or that you are simply not interested in the position that they are trying to fill. Our proofreaders are fully certified and will carefully work through your writing to ensure that all errors are removed from your writing.
Hire a Residency Personal Statement Expert
The Benefits of Working with Our Personal Statement Writers for Residency Applications
We offer you all of the support that you will need with your application through some of the best qualified and experienced writers and editors that you will find online in this field. We always aim to ensure your total satisfaction with our services and will make unlimited revisions to achieve it. Our writers are totally dedicated to offering you perfectly written statements that are going to get you noticed.
Through our services you will always benefit from:
Unique writing with a free plagiarism report to confirm originality
English speaking writers and editors to ensure the best quality writing
Proofreading provided free on all services to avoid errors
A quick turnaround on our services and guaranteed delivery within your deadline
Fully confidential services that are competitively priced
Guaranteed satisfaction with your residency statement or your money back
Contact our specialized and highly reliable residency personal statements services here today to be able to submit documents that will get you noticed!