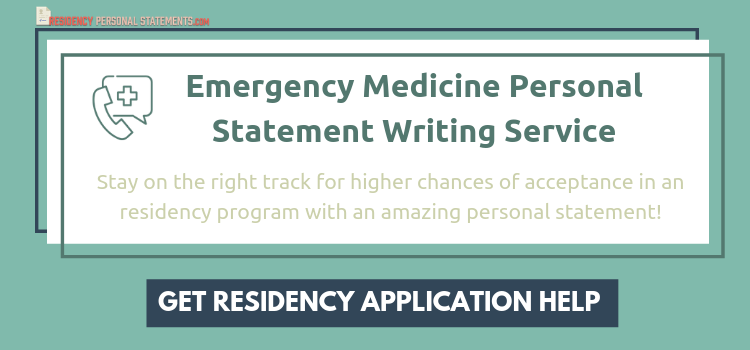 Writing Your Emergency Medicine Residency Personal Statement
Your emergency medicine personal statement must be well planned, structured and written. In writing, you need to avoid overused phrases or statements. Whether you are writing an emergency medicine or neurology personal statement, make it personal as well. It is your only chance to introduce yourself to the admissions committee that is on the lookout for the best candidates for their program. Just like others, they won't settle for anyone less than stellar. They want only the best of the best – show it!
Get Inspired by Sample Emergency Medicine Personal Statements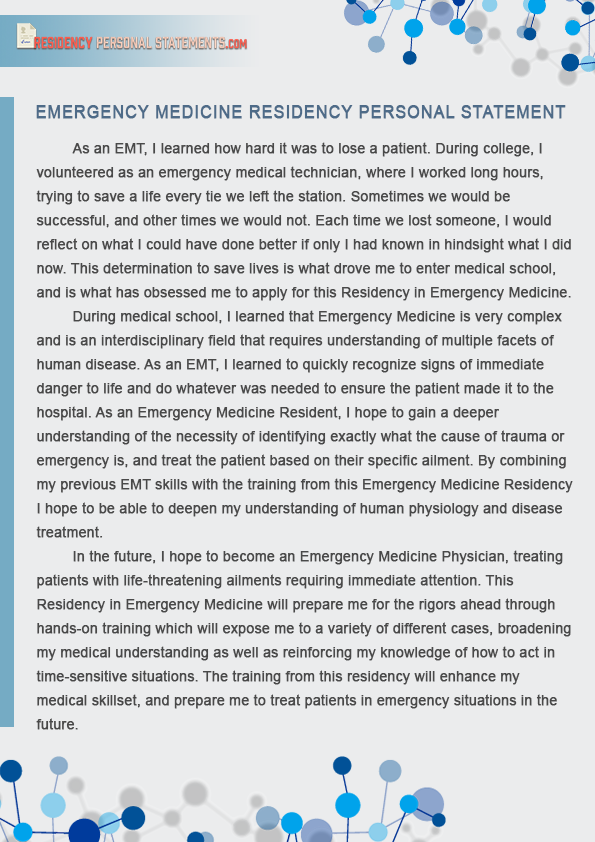 Get Ready for Residency with Winning Personal Statement
Emergency Medicine Personal Statement Length
Your personal statement in residency in emergency medicine should be 1 to 2 pages in length. Within that length, you need to include details about your current and past professional and academic history, your reasons and future goals in pursuing the specialty as well as other details that will help the admission committee to evaluate you as a great candidate.
Additionally, if you need to submit your personal statement using an electronic system, there is a limit. With that, you need to keep enough white space between the application text and your text. Also, you need to check your material to be sure of its correctness. In some instances, you may lose paragraph breaks or special characters. The safest practice is to read your family medicine emergency medicine fellowships essay before sending it.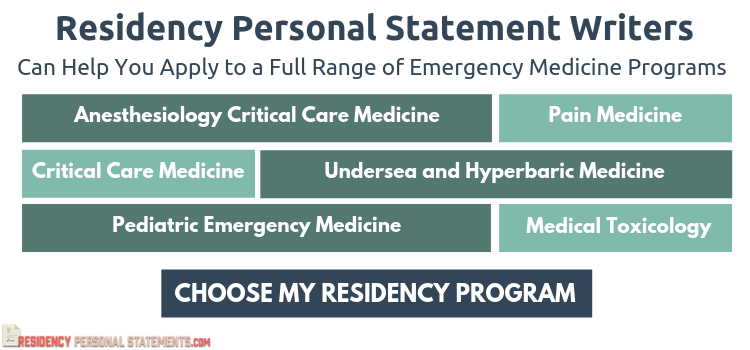 How to Write an Emergency Medicine Residency Personal Statement
Be genuine and honest –  admission committee reads gazillions of residency in emergency medicine personal statements, and they can tell if the applicants are being manipulative or exaggerating. For instance, as an applicant, you should not tell that your father's death is your reason you want to become a physician.
Do not write excuses – if there are negative statements in your application, do not make any excuses but instead turn it into positive attributes or things. Tell how it helps enhance your skills or to become a better person.

Emergency Medicine Personal Statement Writing Tips
Write more realistic than a naive understanding of the profession.
It is better to use the language of the profession or the field.
Include specifics and examples that support and clarify any generalizations that you make.
Discuss work and volunteer experiences. You can also write informal activities if you have. For instance, you can mention organizing a study group for your science course or assisting disabled persons every week.
Include special academic or research projects that you worked on. Be sure to avoid including too much information about the project. Your focus should be on what you have accomplished or learned in the project.
You can also write something that is surprising or unusual about yourself like special interest or talent. You can tie it with your career goals. For instance, you can write that you spent many hours practicing the guitar and that helped you in developing a strong discipline.
Should you include extracurricular activities?
If you are applying for some competitive courses, it is suggested that you should be the focus in writing about your abilities, achievements and academic interests. It can also include a discussion about your extracurricular activities.
Do you need experience of travel and work?
Not everyone has the chance to travel or to do work experience, so it is not a requirement for some courses. But if you are applying for medical courses, you need to get an experience. The selectors will not be impressed with stamps in your passport or any connections you have, but they will be on how you engage yourself with the subject. If you do not have experience aside from voluntary work or just discussing medical matters with your family and friends, you can still write a great personal statement about the things you have learned.
Do you want your essay to stand out?
Whether you are writing emergency medicine family medicine fellowships or pediatric emergency medicine essay, your personal statement should stand out by highlighting your uniqueness as a candidate. You need to show evidence of your ability and commitment. The good thing is that if you use your essay in demonstrating your engagement and academic abilities, then your application will be memorable too.
Where should you start?
You can talk to your family or friends about what you want about the university you choose, why it is interesting for you, what you can do in that program and other essential things. If you find it easy to answer these questions, then you will have great ideas in writing your pediatric emergency medicine essay. Talking these things out can aid you in brainstorming.
When you start writing, you should not just list your achievements, but you need to show how they affected you, how they benefitted you and what you have learned from them. You need to be honest in writing your essay, be it endocrinology personal statement or osteopathic emergency medicine essay. Also, make sure that you do not exaggerate or make false claims. Follow these tips and do better in your personal essay.

Application Process for EM Residency Programs
Sign up with ERAS, where to submit application requirements and supporting materials.
Letters of recommendation
Transcripts
USMLE reports
MyERAS completed application
CV

J1 visa
Clinical experiences
Dean's letter
Personal statement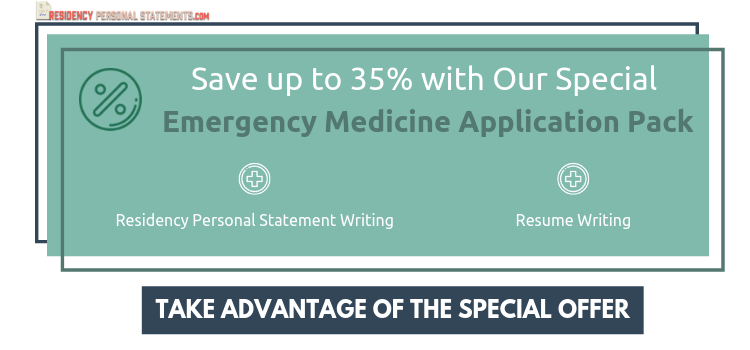 Personal Statement for Emergency Medicine Residency Writing Don'ts
Do not be tempted to write everything because unnecessary details will just flood your piece with fluff.
Do not copy any personal statement. Remember that online programs are using plagiarism detection systems.
Do not write about your grades or anything that are covered in the resume or CV.
Do not just list achievements because you need to evaluate or explain them more. Choose only up to three of them, and they must be tied with each other.
Do not exaggerate.
And remember that you need to read your essay again before the interview.
Top Emergency Medicine Residency Programs
If you are looking for top emergency medicine residency programs, there are many schools you can choose, and some include the following: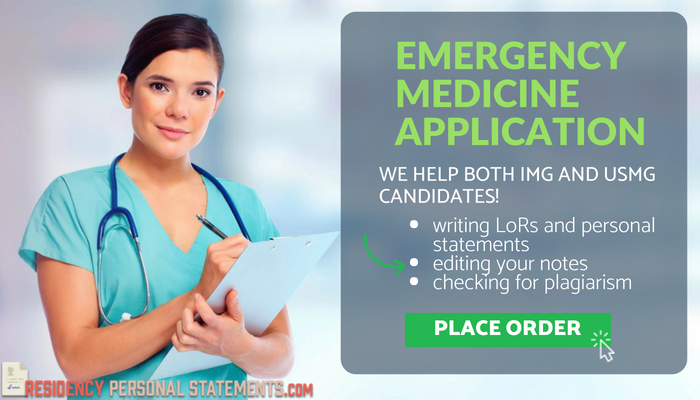 Whenever you need a list of emergency medicine residency programs, you can refer to this list. There are numerous emergency medicine residency programs that you can find on forums, online ranking sites, and other sites as well. Such lists can help to choose what school to apply.
Avail professional assistance and get your winning emergency medicine personal statement!