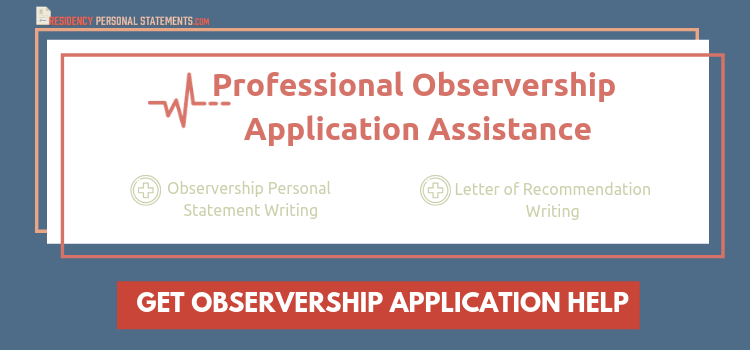 Observership Personal Statement Is Your Key to Application
If you want to apply at observership programs, then prepare an observership personal statement. It is one of the requirements you need to submit. However, you must check the ERAS application timeline to meet the deadline and complete the requirements on time. Check out the following for more about this residency application personal statement.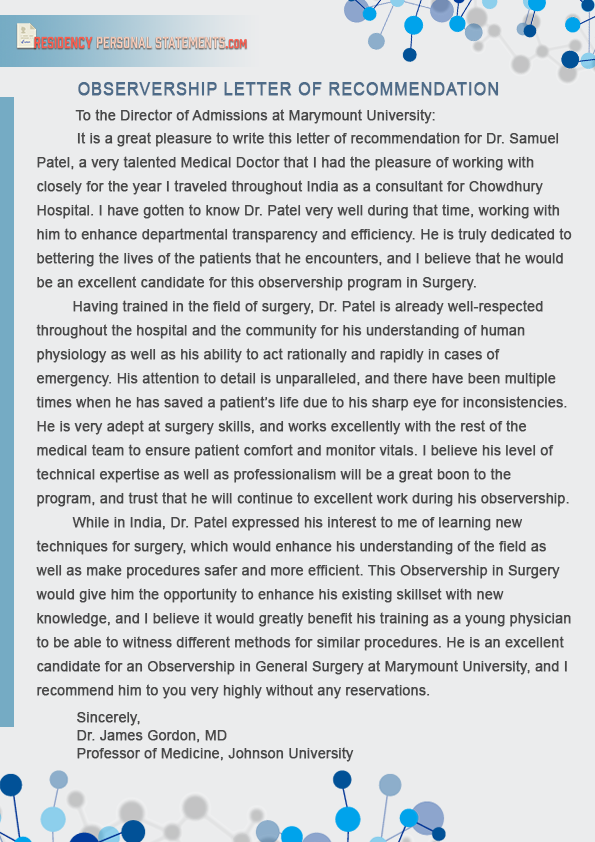 About Observership for International Medical Graduates
Observership programs facilitate the involvement of talented, energetic and young people in structured experience. Applicants will be trained as well as screened, wherein every observer will be paired with an organization for a one-year period. Within that period, the observer will attend all committee and board meetings as a non-voting member. He will learn about fundamental functions and principles of non-profit boards, fiscal processes, board members roles and much more. Observership program gives observers with exposure to the role of the boards, targeted training, mentorship and decision-making. Through it, the observers can gain the essential skills they need when they enter the field.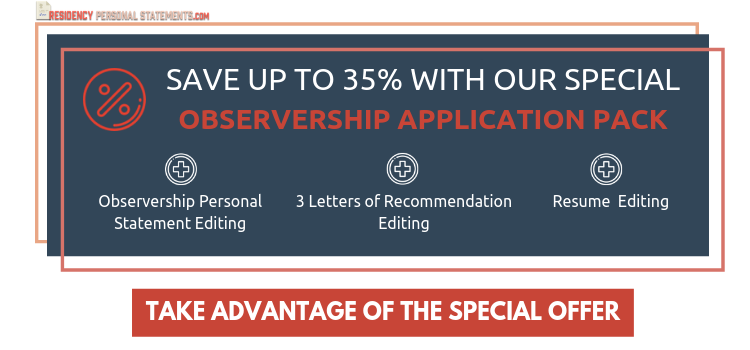 List of Programs for Observerships for International Medical Graduates
Observership programs are helpful for medical graduates in order for them to adapt to the medical practice in the US. Whether you are looking for medical observership, clinical observership or other observership programs, here are programs offering one.
Somerset Family Medicine American Observership: If you are looking for a medical observership program, you can try this one. The length of the offered program is one month, but applicants have an option if they want to extend it to 3 months. The program is an outpatient one concentrating on training to medical students, IMG graduates and nurse practitioners. This program helps them learn about the health system of the United States. Medical residency letter of recommendation can be obtained at the ERAS site.
Bridgeport Family Medicine: If you want a clinical observership program, this one is good for you. The length of it is one month with an option to extend up to three months. The program is an urgent care and an outpatient primary facility located in Bridgeport, Connecticut. They offer outreach, community involvement, full scope primary and family medicine care, travel vaccines, physical exams and much more.
Drexel Medicine® Physician Refresher/Re-entry Preceptorship: When it comes to radiology observership and hospital observership, you can try this program. Drexel University is offering tuition-based structured observership for international medical graduates for United States residency. They are offering six-week rotations wherein the course starts on the first Monday of each month. It is on a first come, first serve basis. Regarding the application process, it takes four to six weeks.
American Association of Physicians of Indian origin (AAPI) Clinical Observership Program: The purpose of this program is to help IMGs to be familiarized with the American medicine style practice. If you want to take up hospital observership or radiology observership, you may do so. Regardless, when it comes to the length of the program, it takes up to 12 weeks.

University of Miami: A University of Miami Observership program is open to all qualified international medical physicians and students who wish to visit the institution to observe activities of a certain division, institute, centre or department on a restricted and temporary basis.
Cleveland Clinic: The program aims to bridge the gap between excellence in clinical and academic experience at a top United States hospital. The Сleveland Сlinic international physician observer program is open and designed only for foreign medical graduates.
University of Pittsburgh: The observership program gives cutting edge care for ill patients in some of the ICUs at the university medical centre. The program is offered in liver transplant, neuro trauma, neurovascular, and acute care surgery and cardiothoracic.
Tufts University: The observership program is only open for foreign medical physicians and students who are actively engaged in clinical practice. The university offers the chance to observe patient care in their training and affiliated hospitals.
Get Immediate Help with Observership Personals Statement Writing for a Full Range of Observership for IMG Programs
If you are struggling with preparing your application document for observership for IMG there is a great option for you! We offer professional help of experienced writers and well-trained editors to help you stand out in the crowd. Our team has expertise in writing such types of documents as observership personals statement, observership letter of recommendation and other application documents. We can help you apply to a full range of programs, including:
Cardiology Observership
Internal Medicine
Radiology Observership
Plastic Surgery
Pediatrics

Oncology
Neurology
Family Medicine Observership
Psychiatry Observership
Dentistry
Get a Tailored to My Program Observership Personal Statement
Observership Personal Statement and Other Required Application Documents
Whether you want to apply for the psychiatry observership program or submit an observership application, it is important to know what the documents needed to be submitted are. Here are some of the documents that applicants should submit, but it is still the duty of the candidate to check the website of the program to know the full details.
Register observer with human resources and health screening compliance requirements: All personnel who will be on the campus of the University for over three days are required for a registration with the school human resources. All visiting observers should meet the compliance requirements before they get a badge from the I.D office to register as an observer:

A representative from the hosting department should go to human resource visiting personnel registration and complete the application form. The HR will confirm the observer registration as well as give the badge number.
Before getting the badge number, the observer should be cleared by the Occupational and Environmental Medicine:

Obtain an I.D badge: In obtaining an I.D badge, the hosting department should make sure that human resource registration, as well as health screening compliance, are met. Once it is met, the observer can obtain his badge at the I.D office.
Review the policies on patient confidentiality: Applicants should read the presentation given by the program, print the final page, sign and return it to the hosting department representative.
Supply evidence of the health insurance: Applicants should give health insurance evidence covering him in the US.
Note: Each school observership program differs from one another; the presented information is only your guide. It is still better to check the website of the program to be fully updated and aware of what documents you need to submit are. It will help you to know more about AAMC timeline as well as ERAS timeline residency.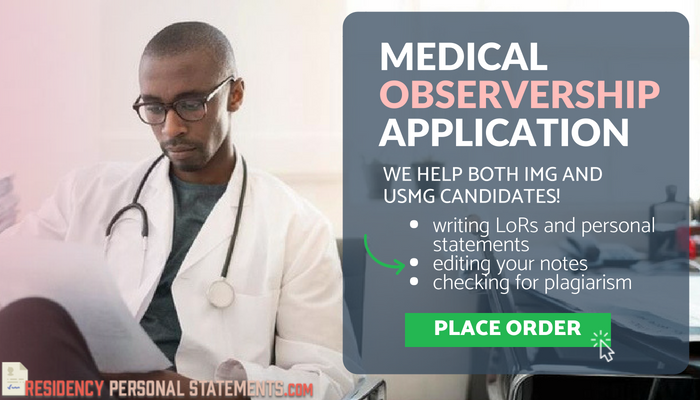 If you are planning to become part of observership program, then prepare yourself for the observership application. The application is not easy and you need enough time to complete all documents for submission. One of the documents you need to submit is observership application letter. To know more details about it, visit the website of the program. Finally, there are many things need to do when you apply for observership program.
Stay on the right track for higher chances of acceptance in an observership program with an amazing observership personal statement today!