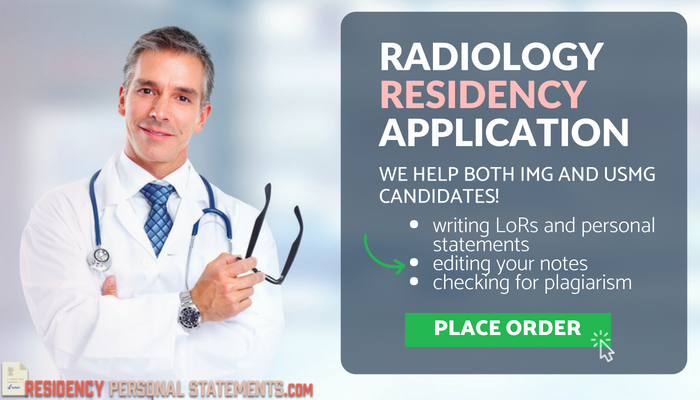 An interventional radiology personal statement, just like cardiology residency personal statement, the process should be followed correctly. If you need to write the essay, you need to have a clear statement on why you want to pursue your career, but before that, make sure that you know about the residency requirements to know how to construct your personal statement.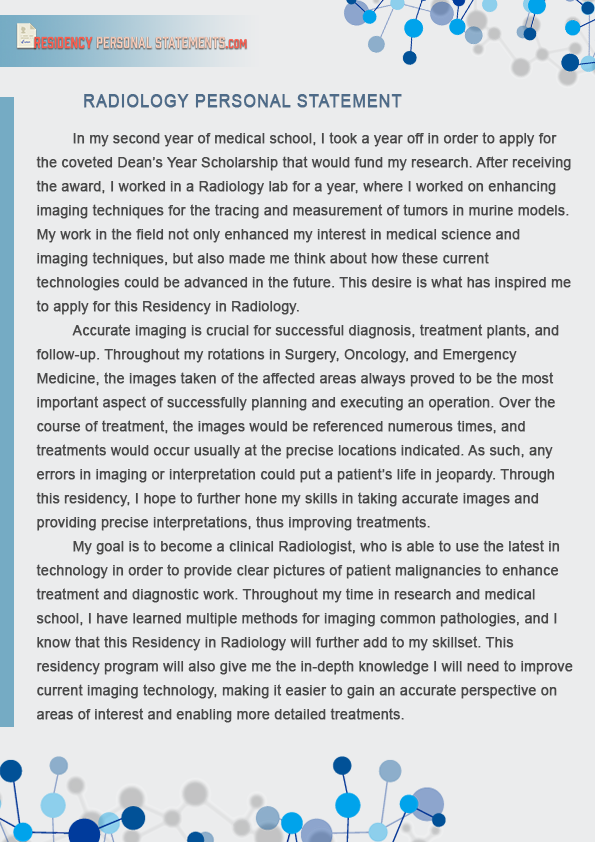 Length of Radiology Personal Statement
Many applicants have a hard time in writing their radiology residency essay because they need to convey their story or explain situations within the required word count in accordance with the standards of residency personal statement length. Applicants usually write longer than the required personal statement length of the program.
Applicants need to cut one-third of their essay if it is too long. To avoid it, they need careful planning in order to keep their radiology residency personal statement at the right length.
An amazing anecdote, explanation of your experience or story of your significant accomplishment will not work if it does not fit in the length of the personal statement.
Therefore, brainstorming and making an outline is great to help in meeting the right length. If applicants have a 500-word essay, they need to decide in advance how they will write every paragraph to meet the residency personal statement word count. Finally, even though there is no set length, be sure to take the writing guidelines seriously.
Writing Interventional Radiology Residency Personal Statement Tips
One of the mistakes in writing the essay for Interventional radiology residency is organizing it like medical application essays. There are applicants who use their medical school essay as their basis in writing the residency in radiology essay. However, it is better to start your personal statement from scratch. Here are some essay writing tips:
⇒ Why you choose the speciality: In the first part of your Interventional radiology essay, you need to discuss why you choose the speciality. Be sure that you give experience related to that field. If you have a plan to devote your life to radiology, internal medicine or any other medicine branch, you need to give clear reasons for choosing it so. Also, you need to ensure that readers will understand this section in order for them to get the idea of what you want to convey to them.
⇒ Why you excel in this speciality: Not all applicants have the equal interest in each speciality. With that in mind, you need to explain what makes you special compared to others. You need to write why you excel in that speciality through explaining about your goals and showing your personality. You need to help readers and make them see that you have something of what it takes to become part of that speciality. In this part of your personal statement, make sure to make connections between your general talents and chosen speciality.
⇒ What are you seeking in the residency? Here, you need to write your intentions of becoming a part of the residency. What experiences do you want to gain from it? You need to tell what specifically you are seeking in the residency program. For now, you have a solid experience, but during your stay at the residency, you will become an expert. With that, write what you can contribute to it by writing about continuous learning, patient care, passion and teamwork.
⇒ How do you see your career? Finally, you need to give your readers an idea of what you will do with your accrued knowledge by the time you complete your residency in radiology. Be sure to show to your readers how you will use your gained skills and knowledge. Do you want to work in an institution? Do you see yourself pursuing a research? Tell to selectors about your vision as a physician.

Application Process for Residency Programs
By the time you have researched programs, be it residency radiology, diagnostic radiology residency or others, it is the time to apply and make sure to get an interview. The application includes numerous components and each is designed to explain your qualifications as well as encourage programs to get you for an interview. Keep in mind that the interview is your best chance to tell programs why they should choose you.
⇒ All applications for radiology residency or diagnostic radiology residency programs are being processed through the ERAS. The applications are processed in September and are accepted in December. The applications are being reviewed and they must include completed ERAS form, transcript, dean's letter, three letters of recommendation and a personal statement. General guidelines include,
⇒ USMLE part one and two: The scores should be part of the application.
⇒ Medical school graduate records, which include internship that should be within five years of the residency application
Interviews are being conducted early in November through the end of January. Interviews are conducted on Weekdays, except Thursday from 7: 30 a.m. up to 3:00 p.m.
⇒ A J-1 visa is available for applicants who are not permanent residents. In some universities, they do not sponsor H1b visa.
⇒ United Kingdom, Canada or the United States clinical experience is great, but it is not required for consideration.
⇒ Clinical skills assessment should be completed on the said date of the program.
⇒ Valid certificate of ECFMG for graduate of foreign medical institutions
Note: There are some residency requirements that you need to submit, and you must check the program to know the full details.
List of Radiology Residency Programs
For radiology residency programs, there are many universities that you can choose from and apply at; if you want to apply at that school, be sure that you can meet all the requirements and submit on time. Here are some of the best radiology specialists programs you can choose from, but make sure to check their official website for complete application requirements.
⇒ Virginia Commonwealth University
Whether you are writing a gastroenterology residency personal statement, cardiology residency personal statement or radiology residency personal statements, be sure to make it clear, succinct and concise all the time. If there are prompts that you need to answer, include it in your personal statement. Once you have chosen the school that you want to enrol to, you have to check the application process and requirements to complete the documents on time, especially writing the personal statement.
Do well in your radiology personal statement and increase your chances of being accepted. Follow these writing tips today!